Alfredo Zinola is an Italian performer, choreographer and dancer based in Germany. He works together with the creative producer Micaela Kühn under the name of: Alfredo Zinola productions.
The son of an actor and an actress, he had his first experiences in the theatre while taking part in his parents' rehearsals and later acted in the productions of their company, Teatro dell'Angolo, now Fondazione T.r.g., in Torino.
His dance studies began in 2004 thanks to the Italian choreographer Raffaella Giordano (Ass. Sosta Palmizi) who offered him the possibility to study with her company for one year. After that, he continued his experiences in contemporary dance in Italy and in Spain, and in 2006 he joined the Modern Dance Study Program at the Folkwang University in Germany.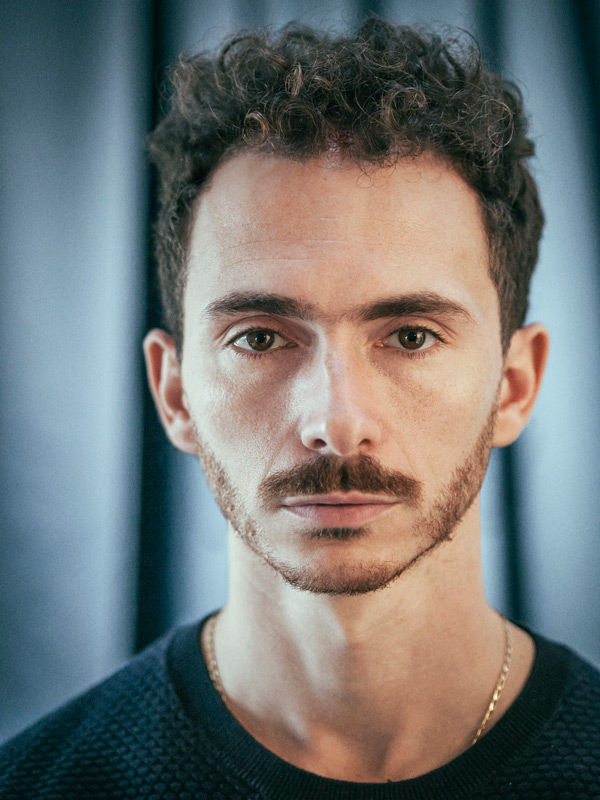 Later, at the University of Turin Faculty of Literature and Philosophy, he graduated in Intercultural Communication, proposing an analysis of a contemporary dance performance of the French choreographer Jerome Bel through an anthropological point of view, with a thesis entitled: Pichet Klunchun And Myself, A Possible Intercultural Encounter On Stage.
While working on his projects, he also collaborated as a performer with various choreographers including: Angie Hiesl, J. Jaspers, G. Rossi, S. Sandroni, C. Hennermann, Kainkollektiv, C.ie 2+, and Stephan Herwig.
In his own work, his way of creating is based on collaborations between himself and other artists. These collaborations lead to important encounters where both artists are engaged with a strong responsibility for the development of the performances.
His first duet, Suschi, explores the possibility of an intercultural encounter between a Korean and an Italian dancer on stage. His second work, About Josema, focuses on the theme of the gay sexuality of a young Mexican dancer in an irreverent and ironic way, by setting a sex-interview on stage.
In 2013 with Felipe González, he attempted to redefine what could be considered contemporary dance performance for children by creating PRIMO, an underwater performance of contemporary dance, set in a large pool on stage.
Continuing to investigate work that is able to propose abstract forms as a medium of empathic communication, he created NERO in 2015 with the American performer Maxwell McCarthy. In this work, obscurity is considered as a blank canvas for imagination, and the body is used in relation to reflective objects in order to produce light forms that lead the spectators a step further into the darkness.
The interest between actuality and children's theatre brought Zinola to the Fondazione Teatro ragazzi e giovani of Torino in 2014, in the frame of the European project Alcotra, to invent a work about family and privacy. He created, in collaboration with the Peruvian artist Ximena Ameri ATO, a site-specific performance that opens a family's apartment to the public and questions their intimate space and the necessity/curiosity of voyeurism.
Still with Ameri, he created Bomba Mix in 2015, a performance that proposes a possible revolution of children's objects. While accepting some of the clichés related to the world of children, the two performers bring a sort of hysterical state to the performance and the public, creating a break and the possibility of a silent revolution.
The works of Zinola and his colleagues have been invited to many festivals in Europe, South America, Asia and Australia.
Alfredo is currently a Tanzhaus NRW Factory Artist for 2020, 2021 and 2022, as well as a member of iDA's NRW, and a board member of the Young Dance Network – A Network for Exchange under Assitej International.
Alfredo Zinola recently completed the course "Curating in the Performing Arts" at the University of Salzburg 2019 – 2020 thanks in part to the Kunststiftung NRW Scholarship.
In 2021 Alfredo Zinola receives the "Preis Darstellende Künste" from the city of Düsseldorf.
Press material selections about the work of Alfredo Zinola Productions:
"Die von Zinola und seinen internationalen Performern entworfenen vorsprachlichen Erlebniswelten sind gelungene Einstige in die experimentellen Dramaturgien des zeitgenössischen Tanzes, selbst für Erwachsene."
Christine Matschke, Journalistin, Tanz Jahresbuch (08/2016)
"Die SCHAUBUDE hat großes Interesse, die Zusammenarbeit mit Alfredo Zinola und seinem Team fortzusetzen, da nicht nur sein inhaltlicher, sondern auch sein formaler Zugriff auf das Theater für Kinder in diesem Land ungewöhnlich, folglich schöpferisch provozierender ist."
Silvia Brendenal, Intendant SCHAUBUDE Theater Berlin (07/2014)
"Zinolas radikaler Ansatz und außergewöhnliche Vision von zeitgenössischem Tanz für Kinder hat das tanzhaus nrw überzeugt…"
Mijke Harmsen/Stefan Schwarz tanzhaus nrw (12/2015)
"Alfredo Zinola and Felipe González's act of graceful movement, floating and splashing through water is, genuinely, a celebration of the human form."
Van Badham, The Guardian (10/2014)
"Nero ist ein sehr gelungener Einstieg in nicht narratives, experimentelles Theater für die
Allerkleinsten, die hier frühzeitig spielerisch lernen wie zeitgenössisches Tanztheater geht."
Tanznet.de Nina Hümpel (10/2015)
"Die Arbeiten von Alfredo Zinola sind zugleich konzeptionell gedacht und zutiefst persönlich in ihrer Herangehensweise. Die Ernsthaftigkeit, mit der er sich seinen ZuschauerInnen annähert entspricht der Ernsthaftigkeit seines künstlerischen Forschungsinteresses. "
Dagmar Domrös, Künstlerische Leitung Theater O.N. Berlin (12/2015)
"Aber PELLE eröffnet mit stummen und zarten Angeboten auch vorsprachliche Welten,… als wären wir niemals Fremde gewesen. "
Christine Matschke, Journalistin (02/2019)
"Über PELLE: Zinola hat wieder gezaubert. "
Michael Zerban, Journalist O-Ton Magazine (02/2019)