Alfredo Zinola is an Italian per­former, chore­o­g­ra­ph­er and dancer based in Germany.
The son of an actor and an actress, he had his first expe­ri­ences in the the­atre while tak­ing part in his par­ents' rehearsals and lat­er act­ed in the pro­duc­tions of their com­pa­ny, Teatro dell'Angolo, now Fondazione T.r.g., in Torino.
His dance stud­ies began in 2004 thanks to the Italian chore­o­g­ra­ph­er Raffaella Giordano (Ass. Sosta Palmizi) who offered him the pos­si­bil­i­ty to study with her com­pa­ny for one year. After that, he con­tin­ued his expe­ri­ences in con­tem­po­rary dance in Italy and in Spain, and in 2006 he joined the Modern Dance Study Program at the Folkwang University in Germany.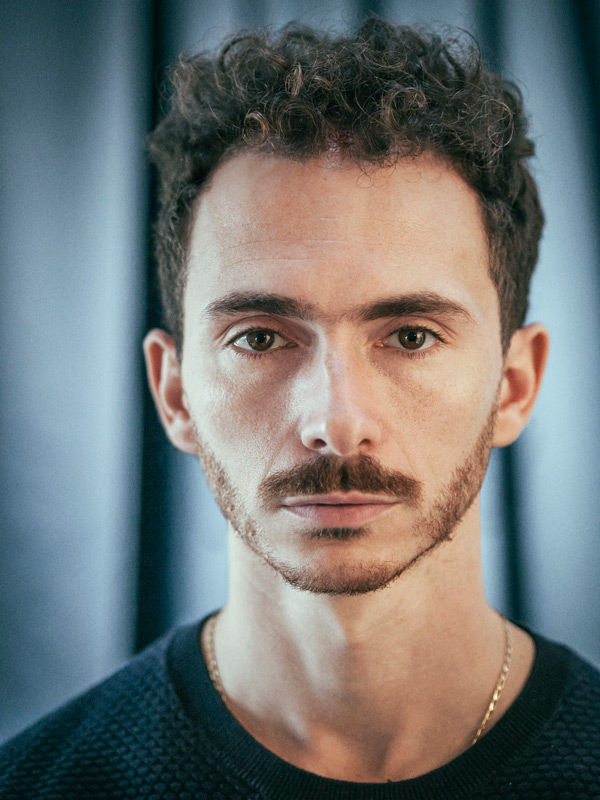 Later, at the University of Turin Faculty of Literature and Philosophy, he grad­u­at­ed in Intercultural Communication, propos­ing an analy­sis of a con­tem­po­rary dance per­for­mance of the French chore­o­g­ra­ph­er Jerome Bel through an anthro­po­log­i­cal point of view, with a the­sis enti­tled: Pichet Klunchun And Myself, A Possible Intercultural Encounter On Stage.
While work­ing on his projects, he also col­lab­o­rat­ed as a per­former with var­i­ous chore­o­g­ra­phers includ­ing: Angie Hiesl, J. Jaspers, G. Rossi, S. Sandroni, C. Hennermann, Kainkollektiv, C.ie 2+, and Stephan Herwig.
In his own work, his way of cre­at­ing is based on col­lab­o­ra­tions between him­self and oth­er artists. These col­lab­o­ra­tions lead to impor­tant encoun­ters where both artists are engaged with a strong respon­si­bil­i­ty for the devel­op­ment of the performances.
His first duet, Suschi, explores the pos­si­bil­i­ty of an inter­cul­tur­al encounter between a Korean and an Italian dancer on stage. His sec­ond work, About Josema, focus­es on the theme of the gay sex­u­al­i­ty of a young Mexican dancer in an irrev­er­ent and iron­ic way, by set­ting a sex-inter­view on stage.
In 2013 with Felipe González, he attempt­ed to rede­fine what could be con­sid­ered con­tem­po­rary dance per­for­mance for chil­dren by cre­at­ing PRIMO, an under­wa­ter per­for­mance of con­tem­po­rary dance, set in a large pool on stage.
Continuing to inves­ti­gate work that is able to pro­pose abstract forms as a medi­um of empath­ic com­mu­ni­ca­tion, he cre­at­ed NERO in 2015 with the American per­former Maxwell McCarthy. In this work, obscu­ri­ty is con­sid­ered as a blank can­vas for imag­i­na­tion, and the body is used in rela­tion to reflec­tive objects in order to pro­duce light forms that lead the spec­ta­tors a step fur­ther into the darkness.
The inter­est between actu­al­i­ty and children's the­atre brought Zinola to the Fondazione Teatro ragazzi e gio­vani of Torino in 2014, in the frame of the European project Alcotra, to invent a work about fam­i­ly and pri­va­cy. He cre­at­ed, in col­lab­o­ra­tion with the Peruvian artist Ximena Ameri ATO, a site-spe­cif­ic per­for­mance that opens a family's apart­ment to the pub­lic and ques­tions their inti­mate space and the necessity/curiosity of voyeurism.
Still with Ameri, he cre­at­ed Bomba Mix in 2015, a per­for­mance that pro­pos­es a pos­si­ble rev­o­lu­tion of children's objects. While accept­ing some of the clichés relat­ed to the world of chil­dren, the two per­form­ers bring a sort of hys­ter­i­cal state to the per­for­mance and the pub­lic, cre­at­ing a break and the pos­si­bil­i­ty of a silent revolution.
The works of Zinola and his col­leagues have been invit­ed to many fes­ti­vals in Europe, South America, Asia and Australia.
Alfredo is cur­rent­ly a Tanzhaus NRW Factory Artist for 2020, 2021 and 2022, as well as a mem­ber of iDA's NRW, and a board mem­ber of the Young Dance Network – A Network for Exchange under Assitej International.
Alfredo Zinola recent­ly com­plet­ed the course "Curating in the Performing Arts" at the University of Salzburg 2019 – 2020 thanks in part to the Kunststiftung NRW Scholarship.